The Hydromassage Zone® is an automated mini-spa ideally located in a semi-private area near the main lobby. This self-directed massage amenity has been able to generate an additional $2,000 to $10,000 per month in incremental revenue for properties, and the guests love it.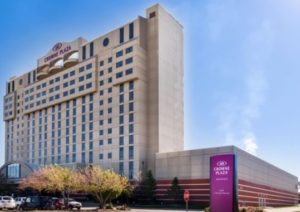 The Holiday Inn Express and Crowne Plaza in Springfield IL are attached to a convention center, so there are some unique aspects to revenue generation at this property. The goal of adding The HydroMassage Zone® to this full-service property was to provide an amenity that both hotel guests and convention center attendees could utilize.
"We needed to find a way to easily provide payment methods for The HydroMassage Zone® so all the attendees that are not staying at the property could utilize this amenity," said Alan Filer, General Manager of the complex. "HydroMassage was very easy to work with and came up with a wonderful solution that allows the convention center attendees to pay for their massage right at the product. We are very excited to be the first IHG property to offer this self-service mini-spa amenity."
Most properties provide an exceptional value, and now IHG is setting themselves apart by also providing a spa amenity normally only found at high-end luxury properties.
Within the full-service and limited-service hotel space, there is not a lot currently provided to relieve frequent travelers from jet lag, cramped seating, and the general wear and tear that goes along with being a road warrior. The HydroMassage Zone® allows properties to add a spa component and turn an underutilized space into a revenue-generating guest enhancement.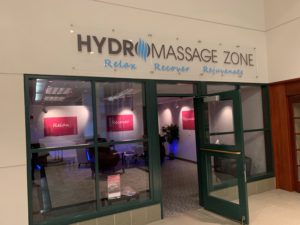 "The guests love this amenity," Alan said. "The expressions on the guests' faces and the reviews on our website are truly heartwarming. It has also been a great way to keep the guests happy during check-in, check-out times are when they are waiting for a ride to the airport."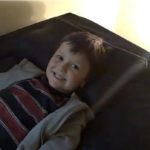 To learn more about installing The Hydromassage Zone® that will increase guest satisfaction and improve your revenue, please contact Jeff Josephson at jjosephson@hydromassage.com or 206.954.8597.