Most limited-service properties provide an exceptional value.
Good quality rooms, basic amenities, free breakfast, Wi-Fi, fitness, pool, etc.
But do you really know which amenities are generating revenue?  Which amenities are being utilized by the guests?  And which amenities are going beyond the guest expectations to provide a truly hospitable stay?
Assuming the basics are being met, how do you provide something extra that most guests will appreciate and utilize, that will also generate additional revenue.
Within the limited service hotel space there is not a lot currently provided to relieve frequent travelers from jet lag, cramped seating, and the general wear and tear that goes along with being a road warrior.
Consider these facts:
Approximately 100 million Americans have Chronic Pain
80% of Americans will experience low back pain at some point
People will pay to avoid chronic pain
Here's a potential solution for your guest wellness and recovery needs: HydroMassage.
HydroMassage is an inclusive amenity enjoyed by all guests, conveniently accessible 24 hours a day to ease the aches and pains of traveling.
It's the perfect way for your guests to relax with a personalized massage experience after a long day of work or play.
A Hydromassage Zone is an automated mini-spa ideally located in a semi-private area near the main lobby.
This self-directed massage amenity has been able to generate an additional $2,000 to $5,000+ per month in incremental revenue, and guests love it.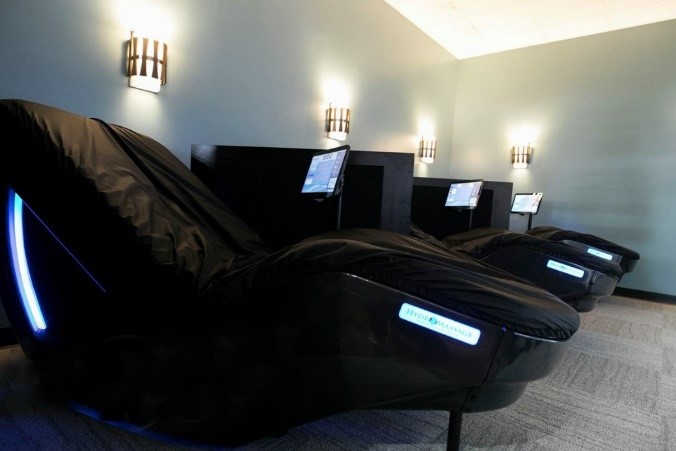 "HydroMassage has been a great amenity in my property.  It has increased our loyalty score and guest satisfaction.  It has also enabled us to generate additional revenue for every unit."

– John Moradi, Choice Hotels
Here are guest reviews of a HydroMassage Zone in a Choice Hotels property in Florida.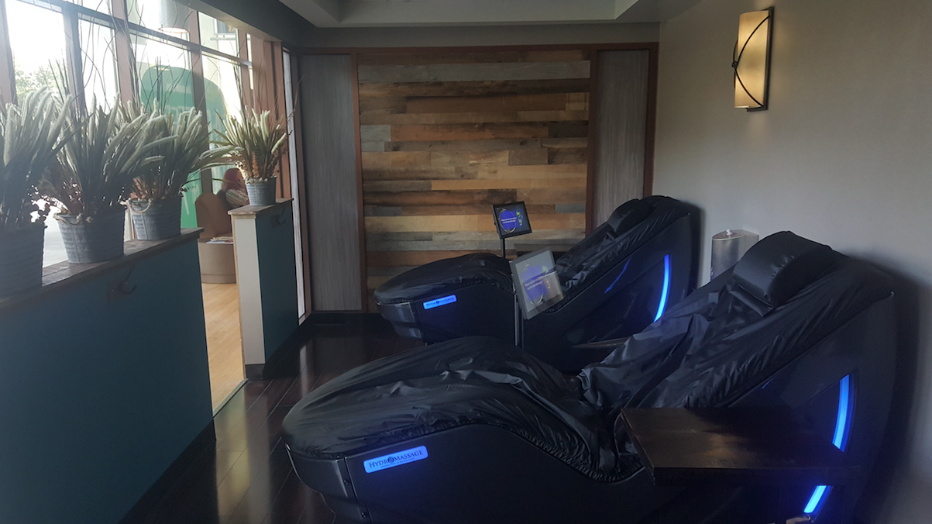 From TripAdvisor
The real surprise was the hydromassage chairs they give you 10 minutes free on when you check in. Great way to unwind after a long flight.
On check in you receive voucher for a ten-minute HydroMassage. What a treat and a wonderful experience after a long day.!!!
Also we got a free massage in one of the hydro massage chairs which was fantastic!!!
An added treat is a hydro massage.
Great room, amazing HydroMassage
This was an Unexpected treat while our family was staying here. Massage room is next to the spotless breakfast area. Very relaxing !!
Kids loved the breakfast and we loved the hydro massage!
Great experience, nice room, staff was friendly, massage was greatly appreciated and free!
The hydromassage was a nice relaxing treat also.
My wife enjoyed the hydro-massage chair – the complimentary trial was a nice touch. If we come back this way, we'll stay here again.
We truly enjoyed our stay here at the Comfort Inn in St Petersburg Florida. The hydro massage chair is an awesome asset; so relaxing
Hydromassage was very relaxing after walking around all day! Nice new feature to this hotel. You can read articles or just close your eyes and relax! Your choice, I say go for it!
The hydromassage was the cherry on top- great addition!
The HydroMassage was the big plus.
Great stay. Loved the breakfast, complimentary massage was great.
After going through the stress of having my house tented it was amazing to get a massage right here in the hotel! I really enjoyed getting away even for just ten minutes and really just relax! I suggest you try it out if you come here!
To learn more about installing a HydroMassage Zone that will increase guest satisfaction and improve your revenue, contact Jeff Josephson, HydroMassage Director of Hospitality Sales at jjosephson@hydromassage.com or 206.954.8597.
More HydroMassage Zone Images:
References: