The HydroMassage Zone® is an automated mini-spa ideally located in a semi-private area near the main lobby. This self-directed massage amenity has been able to provide an exceptional guest convenience that is completely automated and can also generate additional revenue for the property.
JenSpa is located in the neighborhood of the Sandestin Golf and Beach Resort. The resort of Sandestin has lodging and residences that are spread through 30 neighborhoods with 1,600 residences and hotel accommodations. The resort has beaches, golf courses, tennis courts, swimming pools, marina, as well as a fitness center and full-service spa.
JenSpa has added to the growing list of amenities that the resort offers and the business model of a walk up automated massage has been very well received by the residents and guests.
"We wanted to create a business model around offering convenient luxuries to the residents and guests that visit the resort," said Ron Hoglander the owner of the business.  "Whether you're here for a 15-minute session or an entire day, we want to make our service simple and easy to use."
"We get a number of people that want to sit down and relax and maybe treat themselves to something that feels good after a long day of being on their feet. The HydroMassage product has been spectacular and all the guests are big fans."  Ron also said, "HydroMassage just feels good!"
Most resort properties provide exceptional amenities. The HydroMassage Zone allows more guests to enjoy the spa. "Not everyone has the 1-2 hours it takes to get a massage.  HydroMassage provides an exceptional massage in 10-15 minutes and makes massage accessible to more people."
Within the luxury resort segment, there is not a lot currently provided to allow quick and convenient relief from jet lag, cramped seating, and the general wear and tear that goes along with vacation travel. The HydroMassage Zone® allows properties to add an accessible spa component and turn an underutilized space into a revenue-generating guest enhancement.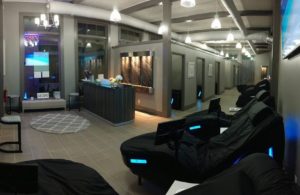 "The guests love this spa and HydroMassage," Ron said. "They are amazed that they can feel so good after just 10-15 minutes on the product."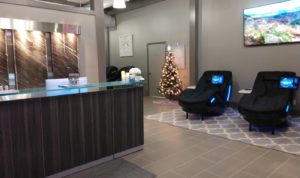 To learn more about installing The HydroMassage Zone® that will increase guest satisfaction and improve your revenue, please contact Jeff Josephson at jjosephson@hydromassage.com or 206.954.8597.