Get ready to say good-bye to the traditional mental image that you have of your neighborhood "gym", because a whole new trend is emerging in the fitness industry. If you haven't walked into a modern fitness center in some time, you'll be pleasantly surprised at what you see these days. Gone are the days of a gym only offering a few rusty free weights, a bench press, and a smelly old locker room. Today, fitness junkies have more ways to get their heart rate pumped up than ever thought possible before. And, whether you fancy a workout with stair climbers, elliptical trainers, Pilates classes, or water aerobics, you don't have to search far to find what you need. Fierce competition in the fitness industry is forcing club owners to play a continual "one-upsmanship" game with each other, fighting for any extra membership dollars that they can get. Until recently, the name of the game was always adding better fitness equipment.[youtube=http://www.youtube.com/watch?v=8PEFnFlkttY]
Now, in order to satisfy members, many clubs are offering services not traditionally associated with the fitness industry at all. It's no longer uncommon to see amenities like tanning beds, saunas, and massage therapy available in fitness clubs. Why? For the simple reason that after you've added all the latest and greatest fitness equipment possible…you have to start looking for new ways to differentiate yourself to attract and retain members. It's really quite a simple concept. If you want more members, you have to offer something that no other club does. And to win at that game, the question for all club owners becomes: "What's going to be the next big thing?"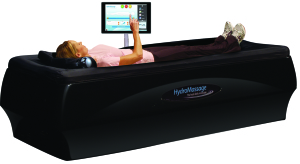 Well, here is a piece of equipment that just might be the answer: Enter the HydroMassage water massage bed. HydroMassage massage systems have been used in the U.S. for the last 18 years, but if you've never used one, you don't know what you're missing. The deal is that you lay on this water massage bed for somewhere between 10-20 minutes, and you get a really impressive deep tissue massage that can be focused on any particular area of the body. You feel a warm jet of water that moves up and down your body, but you stay dry because you're never actually touched by the water massage jets. So, with HydroMassage,you end up with a really powerful massage, without any of the drawbacks of "hands-on" massage (i.e. having to take you clothes off, being touched by a stranger, spending 45+ minutes of your day, etc). And, you can completely adjust how the water massage feels with the HydroMassage Interactive TouchScreen Control System. But the best part is, you can also use the HydroMassage TouchScreen to watch your own DVDs, listen to music, or even surf the internet during your HydroMassage session. Just think, you could be catching up with your news online and getting a massage at the same time. Pretty cool concept, huh? So, why is this a perfect fit in a fitness center? Easy. The effects of massage are well documented:
Decreased muscle tension
Increased blood circulation
Increased muscular range of motion
Click here to find a gym with HydroMassage near you.