How will I feel during my HydroMassage water massage session?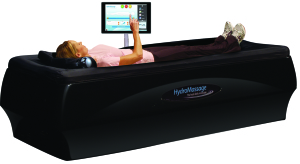 During a HydroMassage session, many HydroMassage users say they feel totally at ease with a deep sense of peacefulness. Others report feeling invigorated as circulation is increased during their water massage session. Because you have control of your massage by controlling the pressure, speed and area of massage, each individual experience will vary. However, they all have one thing in common; they think the HydroMassage is the best warm water massage they've ever had!
How long is a HydroMassage session?
In as little as 5 minutes, you can start to realize the benefits of a HydroMassage session. However, we suggest massage sessions of 10 minutes or longer to loosen the muscles, increase circulation, and let you relax. After your first HydroMassage session, you will have a better idea of the length of water massage you prefer; however, the ideal increments for a HydroMassage session are typically between 15 and 30 minutes.
How often should I use HydroMassage water massage beds?
A regular HydroMassage session, once or twice a week, can really ensure that you realize the benefits of water massage, including increased circulation, relieved muscle tension, reduced stress and anxiety (see the complete list of therapeutic benefits of HydroMassage below). If you have an injury, complete a tough workout, or participate in a strenuous activity that causes you pain and soreness, it is the perfect time to use HydroMassage water massage beds to minimize soreness and help speed your muscle recovery as needed.
What are the benefits of massage?
Massage therapy has been used for hundreds of years to provide relaxation and to promote the healing process. HydroMassage is an alternative form of massage therapy that temporarily helps to:
Relieve muscle tension
Promote relaxation
Relieve stress and anxiety
Increase blood circulation
Reduce muscle soreness
Increase muscular range of motion
HydroMassage water massage is your ticket to relaxation.
To learn more about HydroMassage water massage beds, click here.