Everything one could wish for is here, from spa to soothing hot tubs and mineral baths.  The 28-room boutique property, Golden Haven Hot Springs Spa & Resort has added more amenities for their guests.
"We have world class treatments for our guests and day spa clients, but due to the current pandemic environment, some of our guests were looking for alternative therapies.  We added a few of the Hydromassage® beds to provide a solution where a guest can receive a full body massage and not have to interact with a therapist." Bruce Kendall, managing director told us.  "We want to ensure that all clients have a spa option where they are comfortable; maybe with one of our amazing therapists or in our renown mineral baths, and now we also offer Hydromassage® to help entice our clients to come back and visit".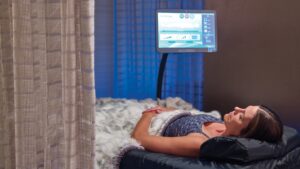 Hydromassage® is an automated water massage bed.   This self-controlled massage amenity has been able to provide an exceptional guest convenience that is completely automated.  The guest can easily self-administer the session for a 25 minute session that Golden Haven has preprogrammed.  Since there is no therapist in the room the client can be in a "hands-free" environment.
"Pick the things you can deliver without close touch" said Sue Harmsworth, Chairperson and Founder of ESPA® recently said in an interview.  When asked about the likely timeline for disruption, Harmsworth said she expects COVID-19 to impact business for 18 months to two years and she recommended spas increase the proportion of spa offerings where clients can remain fully clothed. (1)
Hydromassage® is a solution for the hospitality and spa segments that are looking to augment their amenity offerings.  By providing an effective hands-free option for massage, guests will feel more comfortable entering back into the spa.  For more information on how Hydromassage® can help your spa, please contact us at info@hydromassage.com
1 – https://www.spabusiness.com/wellness-news/Sue-Harmsworth-gives-GWS-masterclass-webinar-on-the-spa-and-wellness-industry-in-the-age-of-COVID-19/345395