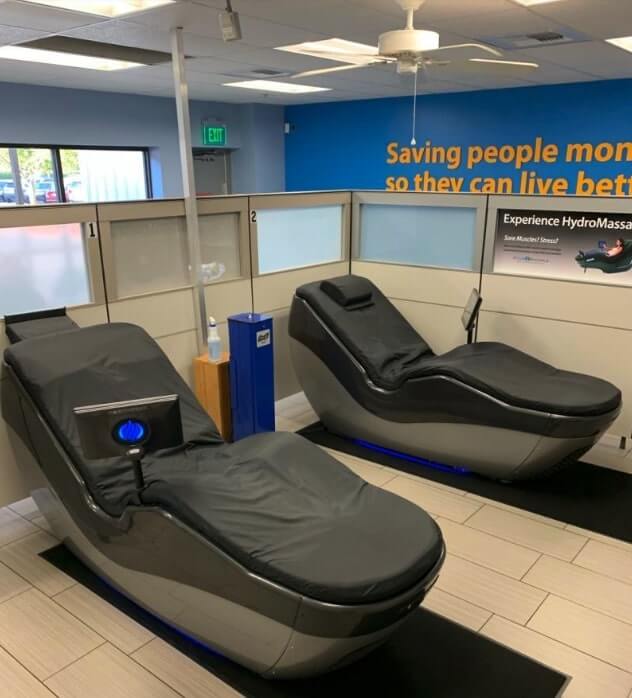 Mr. Sam Walton had a core belief that "the greatest asset of our company…is our people." In 1983, he and his wife gave the gift of the Walton Life Fitness Center (WLFC) in Bentonville, Arkansas to support the health and well-being of the Walmart family.
The Walton Life Fitness Center is 200,000 sq. ft. and has a membership of over 10,000 associates. The focus areas for the team at WLFC are Food, Family, Fitness and Money. Based on these four pillars, Walmart understands whole-person wellness.
WLFC recently added HydroMassage to its amenity offerings. When asked what pillar they fall under, Gabe Terrell, Senior Manager Operations said, "All the above! One use and the lounges sell themselves for the member's particular need."
Walmart is building a new facility in 3-5 years so they have been visiting clubs. Recovery has become a "must-have" so they decided to pilot two HydroMassage lounges. "We have been very happy with the decision," says Gabe.
Some of the comments from WLFC members include:
"The beds help loosen me up after working out. In particular, I've had lower back issues for nearly 5 years. By using the beds after my workout, I'm able to massage the tightness in my upper back, glutes and hamstrings, which in turn reduces my lower back pain."
"Convenient, affordable, and efficient way after a tough workout to stretch the muscles and relax the mind. Another great addition to the WLFC amenities!"
"Having the ability to target a particular area is great. I feel that's very beneficial for me."
"The team members at HydroMassage have been great partners. From the first meeting, they have been very responsive and provided everything we needed for a successful launch," Gabe concludes.
Want to learn more about HydroMassage products?